Course Curriculum
ASP.NET MVC
Introduction

Understanding ASP.NET MVC
ASP.NET vs. MVC vs. ASP.NET Web Form vs. ASP.NET MVC
Advantages of ASP.NET MVC
Visual Studio Project Templates
Understanding Visual Studio ASP.NET MVC Templates
Creating an ASP.NET MVC project
Understanding ASP.NET MVC project folder structure
Understanding configuration files
Controller & Actions
Understanding Controller
Creating Controller
Understanding Actions
Actions and Non Actions Methods
Understanding Action Results
Views
Types of Views
Creating Standard View
Creating Layout Page
Communication between Controller and View
MVC Pattern and 3-Tier
Understanding Model, View and Controller
Design Pattern vs. Architectural Pattern
Layer vs. Tier
MVC pattern vs. 3-Tier Architecture
Razor View Engine
Understanding Razor View Engine
Razor View Engine vs. Web Form Engine
Razor Syntax
Razor Statements, Loops etc.
Routes & URLs
Introduction to Routing
Routing vs. Url Rewriting
Defining Routes
Attribute Routing
Need of attributes routing
Helpers
Understanding Html Helpers
Types of Html Helpers
Built-In Html Helpers
Standard Helpers
Strongly Typed Helpers
Templated Helpers
Inline Helpers
Custom Helpers
Url helpers
Server-side Data Receiving Ways
Action Parameters
View Models/Objects
FormCollection
Partial Views

Static Partial View
Dynamic Partial View
Data Passing Techniques
ViewData
ViewBag
TempData
Session
Query String
Hidden Fields
Cookies
ViewModel & Validation
Creating ViewModel
Understanding ASP.NET MVC Validation
Need of Server Side and Client Side Validation
Validation with Data Annotation
Custom Validation
Custom client side Validation
Custom Server side validation
Data Passing Techniques

ViewData
ViewBag
TempData
Session
Query String
Cookies
WebGrid: Listing, Paging and Sorting
Creating Custom Paging Method
Using WebGrid for Listing, Paging and Sorting
Ajax WebGrid
ASP.NET Web API
Introduction to SOA
Introduction to REST
REST Principles
Understanding ASP.NET Web API
Choosing between WCF and WebAPI
ASP.NET Web API Controller & Actions
Understanding Controller & Actions
Creating Controller
Creating Actions
Database Operations and Postman
CRUD Operations using Web API
Using Postman for testing Web API
Consuming Web API using ASP.NET MVC
Forms Authentication
Understanding Forms Authentication
Customizing principal
Implementing custom Forms Authentication
ASP.NET MVC Pipeline and Filters
ASP.NET MVC Pipeline
ASP.NET MVC Filters
Extending ASP.NET MVC Filters
Configuring ASP.NET MVC Filters
Entity Framework
Entity Framework Fundamentals

What is ORM
ORMs used with .NET
Understanding Entity Framework
Advantages of Entity Framework
Data Modeling Approaches
Entity Framework Data Modelling Approaches
Choosing DB First, Model First or Code First
Code First Modeling
Defining Mapping using Data Annotation
Implementing CRUD Operations
Code First Modeling (Contd.)
Defining Mapping using Fluent API
Entity Framework Code First Migrations
Updating Database when the Model Changes
Calling Stored Procedures and functions
Code First with existing Database
Database First Modeling
Creating Model from Database
CRUD Operations
Updating Model when the Database Changes
Changing and Updating Mapping
Calling Stored Procedures
Model First Modeling
Creating Model
Creating Database from Model
Data Listing and Paging
Implementing Paging, Sorting and Searching
Using WebGrid for Data Listing
Using AJAX with WebGrid
Design Patterns

Managing code using Three Tier Architecture
Understanding Repository and UOW Design Pattern
Need of Repository Design Pattern
Need to Unit of Work Design Pattern
Implementing Repository and UOF Design Pattern
Dependency Injection
Understanding Dependency Injection
Need of Dependency Injection
Implementing DI
MVC Unit Testing
Unit Testing
What is Unit Testing
Advantages of Unit Testing
.NET Unit Test Frameworks
MS Test
xUnit
NUnit
Test Driven Development (TDD)
Introduction to TDD
Using TDD in app
Advantages of TDD
Mocking
Introduction to Mocking
Mocking Frameworks – Moq, TypeMoq
Advantages of Mocking
Unit Tests for Controller and Actions
Writing unit tests for ASP.NET MVC controller
Debugging unit tests
Verify the actual and expected result
Visual Studio Live Unit Test
Introduction to Visual Studio Live Unit Tests
Testing unit tests using Visual Studio Live unit tests
TypeScript
TypeScript
Issues with Plain JavaScript
Introduction to TypeScript
Advantages of TypeScript
Getting Started with TypeScript
Data Types and Variables
TypeScript Data Types
Variable declaration
var vs. let vs. const
Functions and Arrow Function
Types of Functions
Arrow Function
Function Overloading
Classes and Interfaces
Classes
Access Modifiers
Constructor
Inheritance
Generics and Modules
Generics
Modules
Angular 2 to 7
Introduction to Angular2

Understanding Angular2
Advantage of Angular2
Angular1 vs. Angular2
Browsers Support
Get Started with Angular2
Setting up an Angular 2 App
Running an Angular 2 App
Understanding Angular2 folder structure
Angular2 Initialization Process
Introduction to Component
Creating a Component
Bootstrapping the Component
Databinding
Understanding Data Binding
Attribute Binding
Two-way Data Binding
Event Binding etc.
Choosing Appropriate Data Binding
Angular2 CLI
Introduction to CLI
Creating new project-ng new and ng init
Building Project-ng build and ng serve
Ng CLI options
Ng CLI for creating
components, services, directives and Pipe etc.
Directives and Pipes

Built in Directives-ngIf, ngFor, ngSwitch etc.
Creating Custom Directives
Angular2 Pipes
Creating Custom Pipes
Routing
Understanding Routing
Defining Routes
Nested Routes
Attaching Routes to Actions
Defining Templates
Advanced Components and Directives

Components Life Cycle Hooks
Nested Components
Data sharing between nested components
Inheritance
Introduction to Angular2 Inheritance
Components Inheritance
Angular Forms and Controls
Introduction to Angular 2 Forms
Types of Angular2 Forms-Template Driven and Model Driven
Template Driven vs. Model Driven
Template Driven Form
Creating Template driven Form
Angular form input controls
Angular form validation
Angular form and controls properties
Model Driven Form
Creating Model Driven Form
Angular form input controls
Angular form validation
Angular form and controls properties
SPA

Introduction to SPA
SPA vs. MPA
Most Popular SPA
Advantages of SPA
Services
Understanding Angular2 Services
Creating
Database Operations with REST Service
Introduction to REST
REST Service CRUD Operations


Project
Desciption:
You will learn how to develop an online shopping site. The site will show the list of products to User/Customer. A user can purchase products and see the previous order history. Here, admin will be responsible for adding products, categories and approving customer order. The application will use three-tier architecture with extensible approach. We would be using payment gateway to do online payment and finally publishing it on IIS.
Project Architecture: The primary goal of this architecture is to share as much code as possible across the web application and further reuse existing code for mobile apps development if necessary. This architecture will help you to develop web application with the recommended design patterns and practices.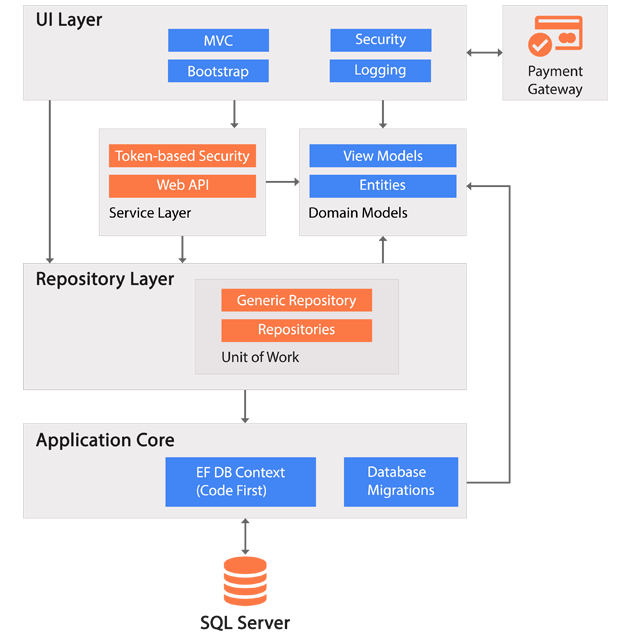 What you will learn through project?
At the completion of project, attendees will be able to;
Create shopping cart

Integrate payment gateway

Create DAL layer using Entity Framework Code First approach

Create BAL layer using Repository design pattern

Decouple modules using Dependency Injection

Break a project into multiple modules using ASP.NET MVC Areas

Use view models for validations

Create Service layer using Web API

Scale application for Phone, Tablets, Laptop & Desktop using Bootstrap

Do errors logging by using ELMAH

Optimize web pages performance

Secure application based on user roles

Authenticate/authorize user using ASP.NET MVC custom filters

Publish your App on IIS